Does it feel like your garden is missing that special something? Something to elevate your space and tie those natural elements together? If so, you should consider adding bamboo garden accents. Bamboo decorations are an eco-friendly alternative to traditional decor and a great way to improve the feng shui of your garden.
There are so many ways that you can transform your garden with the help of bamboo accents. If you're looking for a bamboo showstopper, you can opt for a bamboo water feature or light fixture. For more subtle outdoor decor, take a look at bamboo plant pots, garden edging, and wind chimes!
Whether your garden oasis is indoors, on a patio, or outdoors, natural bamboo is a great material to elevate your space. Here we'll look at the different ways you can add unique bamboo accents to your garden, showcasing 10 of our favorite bamboo garden accents.
Do you want to jump ahead?
Why is bamboo ideal for garden decor and accents?
If you love the earthy, relaxing aesthetic of natural bamboo but would rather not grow the plant itself, there are so many ways that you can incorporate it into your garden design. People have been using bamboo as a material for crafts and construction for thousands of years, and it's clear why: bamboo is durable and functional but still a very beautiful material.
Because bamboo grows very quickly, it is considered an environmentally friendly alternative to plastic and in some cases even timber. Bamboo is a great way to indulge in the biophilic design trend of recent years, which celebrates a love and connection to nature.
Bamboo material also has significance for those who practice feng shui. It symbolizes endurance, success, rapid growth, and abundance. Unsurprisingly, using bamboo to elevate your garden space is an ideal choice since it maintains that natural aesthetic while still being practical and stylish.
Bamboo garden accents & decor
Growing bamboo is not the only way you can incorporate bamboo into your garden space. You can also add bamboo accents, or products made from bamboo, to complete your garden oasis. Below are just a few of our favorite types of bamboo garden decor, as well as examples of each.
Bamboo light fixtures
One of the key steps to creating a magical garden oasis is adding light so that it can be enjoyed at all hours of the day and night. Used correctly, lighting can even improve mood and sleep. For example, soft light can help create a relaxed, social atmosphere perfect for a bamboo garden.
On a practical note, adding light to your garden oasis is helpful for hanging out or getting around at night.
Why bamboo lights are ideal accents
People say that light fixtures are the home's jewelry, so if you want to dress up your oasis look no further than bamboo lights. Bamboo light fixtures are typically made by weaving thin pieces of bamboo together similar to Rattan. Bamboo is a great material for light fixtures as it provides an earthy texture while being relatively minimal in style.
Bamboo lights can elevate your patio, garden nook, or sunroom by illuminating your garden's best features. They are versatile and will complement any style and add warmth to your garden space.
What to look for in bamboo light fixtures
Fortunately, bamboo lights come in various shapes and sizes, so there are plenty of options to suit your particular style. If you want the light to serve as an accent to your garden oasis, make sure to choose a fixture that isn't too large for your space. If you want to add some bamboo light fixtures to your garden oasis, make sure to factor in the size of your space and the electrical availability, particularly if you are looking into exterior lighting.
There are also some beautiful bamboo accent pieces designed to hold candles. These are great for outdoors if you don't have access to electricity.
Tips for using bamboo lights
Since bamboo is a lightweight material, I recommend keeping your fixtures in a location with protection from the elements. Bamboo material doesn't do well in prolonged soaking wet conditions, and you certainly wouldn't want your light to blow away in a windstorm. Standing bamboo lights or lantern-style lights may be more practical for an outdoor garden space than pendulum lights since you can bring them inside if inclement weather is in the forecast.
Bamboo water features
Bamboo water features are the best way to transform your garden space into a true oasis. Water elements appeal to many senses to create a more calming atmosphere. Water sounds are often added to meditation music and have been widely accepted to reduce stress and improve our moods. Water features, like fountains, can also provide a gentle misting effect.
Water helps us be more present, and water sounds often serve as a relaxing form of "white noise." Furthermore, bamboo water features are ideal for garden spaces as they can help boost humidity levels, which is highly beneficial for plants. They can also help cool down a space, ideal for outdoor patios in the summertime. Water features and bamboo are the perfect pairing to combine natural elements for your garden oasis. Both are important in feng shui and will help create balance and symbolize abundance and prosperity.
What to look for in bamboo water features
When it comes to bamboo water features and fountains, you'll want to consider how much noise you want in your space and whether you want any other moving features. Some bamboo fountains that tip certain parts over are great for deterring wildlife in an outdoor space as the knocking sound may scare them off.
If your fountain is for an indoor garden oasis, you'll likely want to opt for a smaller size, whereas for outdoors you may want something a little larger. Some bamboo fountains are designed to enhance ponds and are therefore larger, so you'll want to determine the ideal size for your particular space before buying.
Adding water features also brings another element of logistics, which includes installing a water pump if it isn't included. If doing DIY projects isn't something you enjoy or prefer, I'd suggest getting a kit with the pump included. Make sure the company you purchase from has good reviews and possibly even a warranty or ongoing support in case you encounter any issues.
Tips for your bamboo water features
When it comes to water features, since there are many moving parts to them, proper maintenance and cleaning are needed to help prevent wear and tear and even rotting. Any water system can be subject to clogging.
Still, since bamboo fountains are relatively minimal and less intricate than some ceramic decorative fountains, you likely won't encounter as many issues. Above all, keeping your water clean is vital to maintaining your new bamboo garden accent.
Bamboo planters and pots
Another great way to incorporate bamboo accents into your garden oasis is to have bamboo pots and planters. For example, bamboo poles can be cut to make cute bamboo planters for small plants. Or you can opt for woven bamboo baskets that allow the foliage of the plants to take center stage.
Either way, bamboo pots are a great fit for just about any plant and are a great, durable alternative to plastic pots. Since bamboo is naturally pest-resistant, it may even help you keep garden pests at bay!
What to look for in bamboo pots and planters
When choosing a pot or planter for your bamboo garden oasis, getting the right size for the job is key. If you plan to plant directly into your bamboo pot or planter, make sure that it has sufficient drainage for the excess water. Bamboo is naturally a porous material, which can help to wick away the excess moisture, much like terracotta. However, having those drainage holes is important not only to avoid root rot in your plants but also to help your bamboo planters have better longevity. If your heart is set on a bamboo planter and there isn't any drainage, you can place a plant in a pot with drainage, such as a nursery pot inside the bamboo planter.
Tips for setting up bamboo pots and planters
Opt for planters that prioritize quick-drying features to help your bamboo pots and planters last as long as possible. Prolonged moisture isn't ideal long-term for bamboo. Otherwise, using bamboo pots as cache pots is ideal. To do this, keep your plants in their original nursery pots inside your bamboo planter. Remove the plant when it is time to water and allow the excess water to drain out of the drainage holes before returning your plant to the bamboo container.
One of our favorite bamboo planters below is great for epiphytes orchids that prefer growing in sphagnum moss. The moss will retain moisture, keeping the woven bamboo dry and protected. You can use this type of planter for so many different varieties of plants, as many are compatible with similar growing media like moss.
Bamboo garden edging
If you're thinking about your garden design, you may want to have a border that separates garden soil and mulch from your walkway; this is known as edging. But why opt for a plain plastic edging when you could elevate your space with one made from bamboo poles? Bamboo garden edging is not only beautiful, but also practical.
Tips for bamboo garden edging
As with any type of edging, bamboo garden edging needs to be partially buried in the ground in order to hold its shape and serve its purpose of keeping landscaping contained. You can take steps to increase the longevity of your bamboo garden edging by treating it for outdoor usage beforehand with a non-toxic wood sealer.
Before you purchase your bamboo garden edging, make sure to measure the length of the space you wish to contain so you can order the right amount. When in doubt, err on the side of too much in order to avoid an awkward gap!
Bamboo wind chimes for your garden
Another delight for the senses, bamboo wind chimes are less loud than their metal counterparts and therefore less disruptive for neighbors. This makes them ideal for creating an oasis for meditation, yoga, or even gardening. There are so many different designs and styles of bamboo wind chimes to choose from; many bamboo chimes have additional carvings and birdhouses built into the display.
Tips for bamboo wind chimes
Bamboo wind chimes are very durable, but there are some ways to help them last as long as possible. As with most bamboo materials, it's best to keep them sheltered from extreme environmental conditions, particularly if you are in an area that experiences strong winds, heavy rains, and intense direct sunlight. If you experience intense winters, you may also want to bring your chimes back indoors for the winter.
You can clean your bamboo wind chimes with a damp cloth and even apply some non-toxic wood sealer once yearly to help longevity. Some splitting may occur if your bamboo chimes are not properly maintained, impacting the sound they make over time.
Not a fan of sound? Try a bamboo mobile!
If you would rather completely minimize sound in your garden oasis, you can still have the beautiful aesthetic of bamboo chimes without the noise by getting a hanging bamboo mobile. These beautiful garden accents will spin in a gentle breeze, creating a natural, calming visual interest you can enjoy without any noise. These beautiful bamboo art pieces are exceptionally delicate, so we recommend protecting them from extreme elements.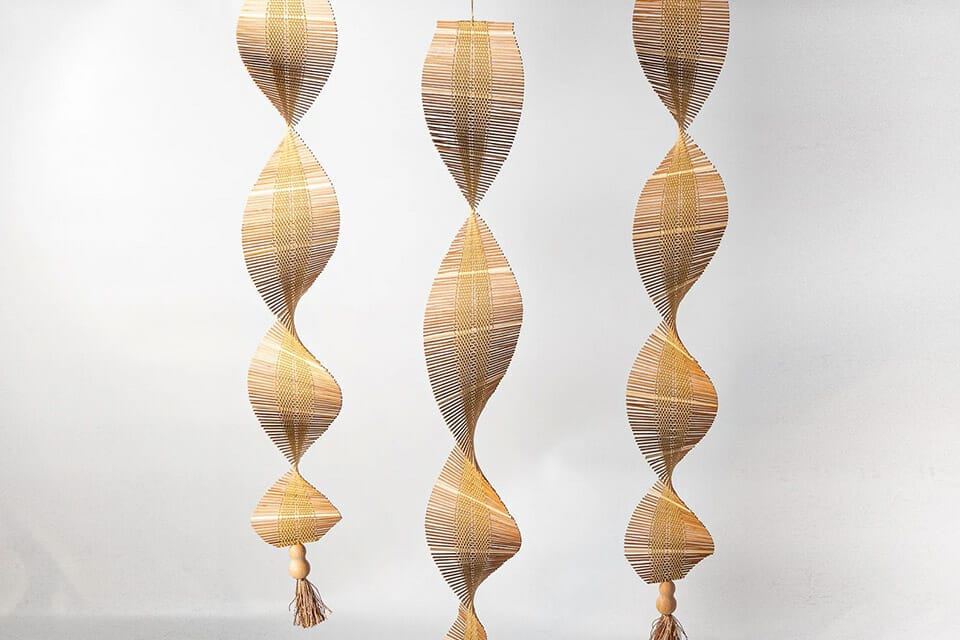 What is your favorite way to elevate your garden space with bamboo? Let us know which one of these you'd like to try in your oasis!