Bamboos look stunning in planters. The options for arrangements and styles are boundless. Besides the great appearance, bamboo planter boxes also serve as a barrier. No need to worry about the roots spreading over your whole property.
There are more benefits and things you should know about growing bamboo in planters. From bamboo species that do well in containers to tips for picking the right planter box and product recommendations, here you should find everything to get started! So keep reading if you want to learn everything about bamboo planter boxes!
Do you want to jump ahead?
What are the benefits of bamboo in planters?
Bamboo can be a very invasive plant if not taken care of properly. A planter box can solve this issue. You are confining the root system to a specific space which makes it impossible for the plant to spread.
In addition, you can move these containers around to give them proper light or simply to change your garden design. Depending on the size, you may not be able to lift the planter with the bamboo easily or at all. That's when a garden dolly may help. Check out this one on Amazon – it can load up to 300 lbs!
Overall, this can be a great way to grow bamboo, especially if you live in a rental or if you want to spruce up the outside of a business property! It is not as permanent as growing bamboo in-ground.
What are the disadvantages of growing bamboo in planter boxes?
Not all bamboo will thrive in a container. Planting bamboo in a not optimal climate already decreases its maximum height. Planting it in containers further reduces its height. Whatever species you will pick, it won't grow as tall and thick as in-ground grown bamboo. The roots and rhizomes are compressed inside the planter without much space to grow.
Container bamboos need more attention. More watering, repotting, dividing, and root care. You should expect to repot or divide your planter bamboo every 2 to 5 years. Bamboo will outgrow any container in about 5 to 8 years. Bamboo roots can go as deep as 3 feet, which is nearly impossible in containers. The rhizomes, however, stay shallower, around 12 inches deep. When there is no room to spread horizontally, the rhizomes twirl down inside the container, spread out the holes, and crack the pot within a couple of years. In order to prevent this, you'll have to prune the roots regularly and divide the plant.
Environmental stress may affect potted bamboo more than in-ground plants. Remember that the soil will drain easily because of the compressed root area. This also means it will get dry faster and you need to water more frequently.
They are also more exposed to cold, heat, and heavy winds. In winter, bamboo in planter boxes is more prone to suffer from freezing. You definitely have to control the extremes more than bamboo grown in the ground. Bubble wrap can help with longer freezing periods. A thick layer of mulch can help in winter and summer.
This might just seem like the cons outweigh the pros but that's not necessarily right. It all depends on the perspective and your priorities. If you look at the root care of bamboo in container vs. in-ground, you'll quickly see how much less work it is. Root barriers and trenches of in-ground bamboo require annual checks. That's not always necessary for containers. Watering can be automated if it's too much work. So, it's just the repotting or dividing every few years.
What bamboo species grow well in containers?
You could technically grow almost every bamboo species in a container. However, not all species will thrive amazingly. They will be shorter and thinner.
When picking the species you want to keep in mind that it will probably only grow half of its potential height (in your local area).
As a general rule, if you plan on using a planter it's best to pick a clumping bamboo because you won't have to deal with the complex root system. You obviously can grow running species as well though. Shorter runners will do better than the taller ones.
Important: The USDA Zones for these species may not apply when grown in containers. For example, don't pick zone 6-10 if you are living in 6a. Go for zone 5 in this case or have a winter plan for your bamboo.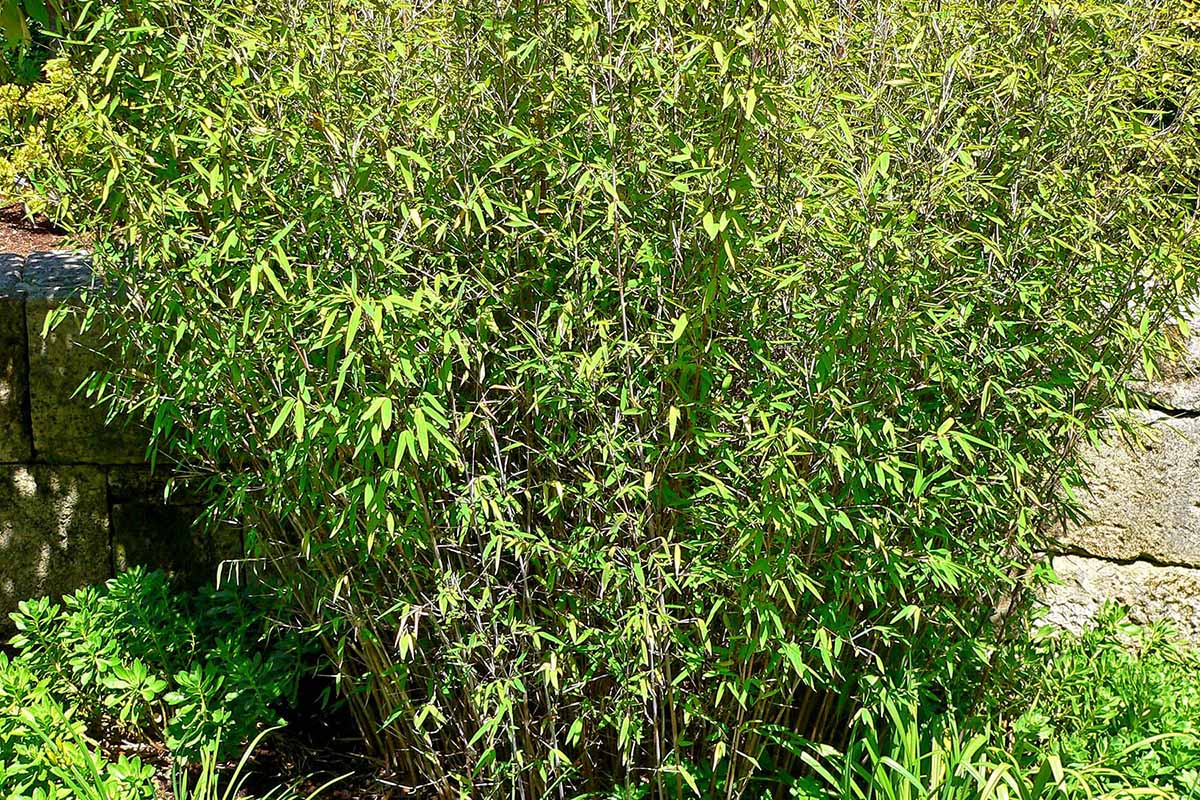 Average height in container: 5-8 ft (Rufa), 8-11 ft (Nitida)
USDA Zone: 5-9
Fargesia is a very popular short clumping bamboo. It grows quickly and dense, which is why it is often used for hedges. Fargesia is also known as fountain bamboo because the foliage is so dense and top-heavy that it bends outward. This gives it the fountain look.
Fargesia bamboos don't like the extreme heat or humidity.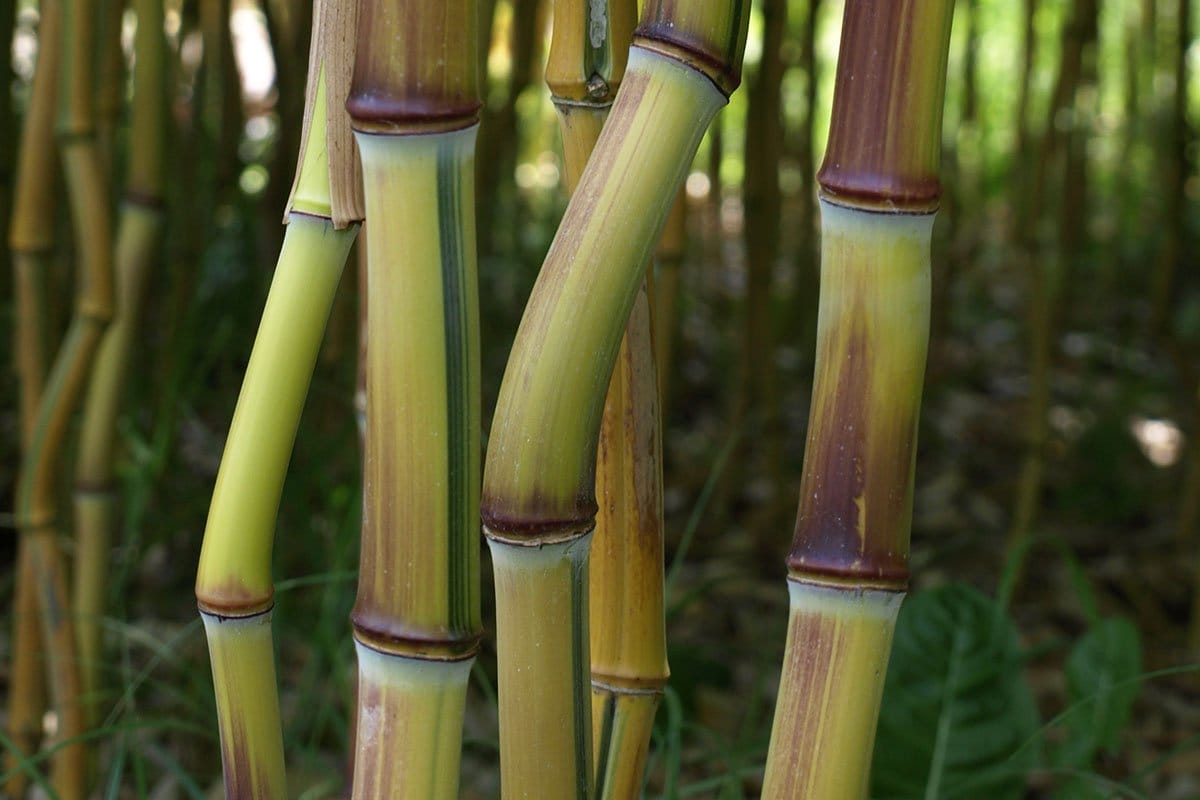 Average height in container: 15-20 ft
USDA Zone: 5-10
The stems of this Zig Zag Bamboo are truly a delight to look at. They are light green to yellow with red highlights, especially when grown in full sun. This running bamboo is a rare find so it's a collector's item.
It is quite hardy and can even endure -10°F, as well as heat.
Bambusa Malingensis or Seabreeze Bamboo
Average height in container: 20-30 ft
USDA Zone: 8b-11
Seabreeze bamboo is one of the ideal options for a quick privacy screen or hedge. It has its superb thick parallel leaves and upright growth. When planted in a big, well-drained, and slightly covered container, they can easily be managed to remain at any length you choose. Only seasonal trimming and just a few touch-ups are all you need.
This clumping bamboo is salt tolerant so it is great for coastal areas.
Bambusa Multiplex or Hedge Bamboo
Average height in container: 8 ft
USDA Zone: 9-11
Bambusa Multiplex has been identified to reach around 8 feet when planted in containers. This clumping species is cold tolerant down to 18°F. They are a great alternative for starting your garden or growing a nature-like screen. Unlike most bamboo, this one is dark green and pencil-thin.
Giant Buddha Belly Bamboo
Average height in container: 6-15 ft
USDA Zone: 9-12
Giant Buddha Belly Bamboo is also known as Bambusa Ventricosa. You can carefully starve it from water to move its belly out. This clumping bamboo thrives in full to partial sun. It will grow quickly to around 6-15 ft when planted in a container.
Average height in container: 15-20 ft
USDA Zone: 7-10
Golden and black bamboo are types of running bamboos. They provide lesser screens compared to the dense clumping bamboos. Some people choose golden or black bamboo because they look so attractive. They can be restrained in a container for several years. Its rhizomes will just circle the edges. Check the bottom part if you are using an oak wine barrel because the wood might rot after some time.
Average height in container: around 8-15 ft
USDA Zone: 7-10
Pseudosasa Japonica or Arrow Bamboo is a remarkably strong and adaptable runner. It can be grown in shade to full sun in a south facing garden. It is very patient when it comes to windy or seaside situations. You can define its height and density with pruning and thinning properly.
How to choose the best planter box for your bamboo plants?
The larger you can go the better. But I know that the available space isn't always that much. As a general rule, the planter should be no smaller than 20" by 20". The smaller the planter the more often you will have to divide the plant to keep it healthy. For this reason, it is really best to start running bamboo in planters of at least 30" by 30". Clumping bamboo grown in a 20" by 20" planter and running bamboo grown in a 30" by 30" planter should be divided or repotted about every five years.
The depth is important too. Bamboo rhizomes are about 12 inches (30 cm) deep but the roots travel as deep as 3 ft (90 cm). If they don't have enough room, the plant will become root-bound and the roots may grow out of the drainage holes. The more space the bamboo has the less hassle it'll become with divisions etc.
Pick a strong and sturdy container that will serve as an impassable barrier for the roots of your bamboo. The roots of running bamboos can break through nearly anything. A metal planter is almost the only choice for running bamboos. However, these heat up or freeze quickly, which doesn't make them the perfect candidates unless well-insulated from the inside.
A container that has good drainage is a must to prevent root rot. You can drill holes into the bottom. Pot feet are great to ensure the water is draining properly.
It is important to avoid shaky and top-heavy containers that may tumble over. This is seriously relevant for tall varieties of bamboo in a windy area. Keep a moderately low and steady rectangular or round container. Narrow neck pots are not suitable. It will give you a hard time removing the root ball without cracking the pot when it is time to divide your plants.
If you choose a wooden container and running bamboo, it's not a bad idea to line it with a polypropylene root barrier.
Our top picks: bamboo planter boxes & containers
Maybe this is the part that you've been waiting for. Here are our recommendations that are great for growing bamboo in planters.
Corten Steel Planters in multiple designs & sizes
Have you seen and admired these rustic metal planters in other garden designs? Well, this could go into your own, too! Corten Steel Planters arrive in a silver-metallic look that will eventually rust over time. This gives it a unique old-style appearance.
It is designed from a solid gauge, completely seam-welded Corten Steel base. So, they won't crack in the winter.
The different sizes and shapes give you the freedom of choice for your garden design. Just make sure it'll be big enough for your bamboo plants. If you pick the taller ones, fill the bottom with recycled porcelain, bricks, gravel, or rocks. This way you have good drainage while not having to add huge amounts of soil.
Tips for using the Corten Steel Planters:
Place them on a mat or a plate. This way you'll avoid rust stains on your surfaces (only needed if placed on patios, balconies, or terraces).
Place them on a caddy with wheels/casters in order to easily move it around.
Use styrofoam inside for insulation. This planter box is made of metal which heats up and cools down faster. Protect your bamboo from overheating or freezing with insulation.
Drill 2-4 more holes for better drainage.
Sprinkle water on the planter box in order to speed up the rusting process.
Let's have a look at the different designs:
Veradek Midori Planter Boxes
If you don't like the rust look and still want a metal planter, Veradek has some planter designs for you. Whether you want a long planter for privacy or cubic ones as accents on your patio, you'll find something in their collection. The Midori design has a contemporary and clean style using thick gauge galvanized steel. It has a strong, scratch-resistant powder coat (Black, Grey, or White). It is remarkably long-lasting and invented to withstand every season.
Tips for using the Veradek Midori Planters:
Place them on a caddy with wheels/casters in order to easily move it around.
Use styrofoam inside for insulation. This planter box is made of metal which heats up and cools down faster. Protect your bamboo from overheating or freezing with insulation.
Drill 2-4 more holes for better drainage.
Let's have a look at the different designs:
Wooden planters for bamboo
Maybe you're looking for something more natural. If you choose to buy a wooden planter box for your bamboo plants, this might be just the right fit. Using wood is a great idea when it comes to insulation. In contrast to metal, you won't need to worry about heat and frost as much.
However, you should line it with a layer of plastic sheeting, such as weed control or a root barrier (you can find it on Amazon). This will give the wood a bit more protection.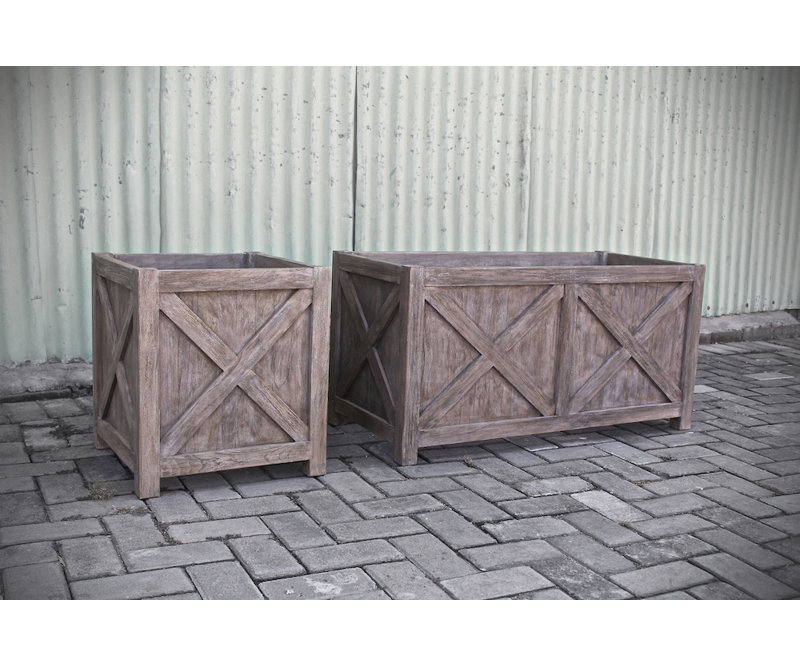 Alvah Reclaimed Teak Planter Box
This planter is a real beauty! Imagine how great it will look with lush green bamboo plants.
If you are not building a privacy fence with your bamboo you may want something cubical or otherwise eye-catching.
Cast Stone Planter Box
Something exquisite for your garden. This is definitely not everyone's taste or budget, but it is still a great choice. Cast stone planters are durable and sturdy. They don't heat up or cold down as quickly as metal planters. However, they are also heavy so it may not be the best choice if you plan to move them.
Cubic planter boxes for bamboo
If you want bamboo for visual accents in your indoor or outdoor area, you can use one of these cubic planter boxes. Whether you'll place them next to a sitting area, into corners, or along a fence or wall, these are great ways to add some tropical feeling. You can easily move these around in case you want to change your arrangement or if you need to move the bamboo with the seasons.
The Pottery Pots' planters are made of fiberglass and 58% finely ground stone. It is weather-resistant and lightweight. Available colors: Black, Grey, and White. You can choose between 20 or 24 inches.
The Fairfield Patio Planter is made of long-lasting and fade-free plastic. Available colors: Black, White, Clay, and Espresso.
Jay Scott's fiberglass planters
Fiberglass has become quite popular for planters. It's durable and looks nice at the same time. There is no splintering, cracking or weathering. So, it does provide a long-lasting value for its price tag.
Jay Scott planter boxes come in different sizes and you can pick from various colors. They actually paint the planters when ordered and you have about 20 options to choose from. There should be at least one color that fits into your garden.
In comparison to the steel planters, fiberglass is a lightweight material. Therefore, it doesn't add as much weight. This is important if you pick a cubic box that you want to move with the seasons.
Composite planter boxes
In case you don't know what composite is: Composite is a mix of two or more materials – such as steel and PVC. It offers durability, strength, low conductivity, and cost-effectiveness.
Composite materials are generally more corrosion-resistant and don't fade as much from UV rays. It is also lighter than stone or steel. This makes it easier to move around within the seasons.
DIY Ideas for bamboo planter boxes
If you don't want to spend so much money on a bamboo planter box, why not build one yourself? You can use old wood pallets or salvaged wood from any other construction. This way you will have the exact size and shape that you want it or need it to be.
Be careful about removing nails from reclaimed pallets. It can be an inconvenience to break them down. Look out for splinters. Always make sure to get non-pressure treated pallets. Pressure-treated wood will extract some harmful chemicals into your soil and bamboo.
Here are some DIY Planter Box Ideas. Maybe you'll get inspiration from this.
How to take care of planter bamboos?
Bamboo is not a picky plant. The more room your planter provides, the better your bamboo will thrive and the healthier it will be.
It is crucial to choose the right species but it is also important to pick the right container for the bamboo species. If you picked a tall plant, make sure that your planter is heavy enough to prevent your plants from being blown away. Always check the stability of each pot.
Deep pots are perfect. You'll just need to fill it with more rocks or gravel to make it heavier at the bottom. It will also help your bamboo to grow upright.
Make sure that your bamboo plants receive plenty of water in its initial planting year. When the roots are developed, your plants don't require as much water anymore.
Watch out for standing water or too much dryness. Bamboos in planters don't have access to the ground. So, they may not be as drought-resistant as in-ground grown plants. Installing a drip irrigation system might be a good idea to ensure that your bamboo gets the right amount of water during the summertime.
Insulation and mulching can help with plant stress, such as hot/freezing days, temperature changes, and droughts.
Containers can't give the equivalent amount of insulation compared to the ground. However, larger containers will provide more protection in winter. There are many ways to prevent dead bamboos due to frost:
You can move the planter inside, e.g. a garage, greenhouse, or winter garden.
You can place them in a spot with less wind exposure.
Mulching heavily and installing bubblewrap around the planter is helpful to add insulation.
Warming cables can also be installed when winter comes.
Most bamboo species can thrive in any soil conditions. But container-grown bamboos need more attention. Choose high-quality and well-draining soil. Premium soils include nutrients and some ingredients that will support them in proper water retention. Feed 2 to 3 times every year with a high nitrogen fertilizer.
Remove older and dead stems from time to time. This will set less need as it won't have to struggle hard to maintain each stem healthy. It will designate its energy towards developing new shoots.
After a few years, you need to re-pot or divide the bamboo. This activity is best done in spring. Pull the rhizomes away from the external edge of your barrier. Thin and discard older canes to sustain good health.
Have you found your bamboo planter box for your garden project?