When you think of bamboo, you may think of a large bamboo forest with a path leading through it. It's somewhere in a tropical climate, where it is warm and where it rains a lot. Except for the temperatures, these conditions aren't so far from the ones found in the UK, right?
You would think the high rainfall in the UK provides nearly perfect conditions. So, can you grow bamboo in the UK? Yes, it is possible, of course. These days you can grow and buy bamboo worldwide, and not just in Asia or Central and South America. In the UK, bamboo can be found locally at nurseries, or through online retailers.
Bamboo is a universal plant loved for its decorative appearance and fast growth. It makes the best hedges and privacy screens in less time than traditional plants. Bamboo varieties offer a great choice of color and style for the gardener.
In addition, there are all sizes and all possible uses. Really, the ideal bamboo exists for everyone. I guess this is why the bamboo plant is appreciated all over the world! The UK is not an exception.
However, not all species of bamboo can be grown in the UK. In this article, you'll find beautiful varieties that can thrive in the UK. First, let's talk about bamboo growing zones. Read on!
What are the bamboo growing zones?
There are a few factors that'll determine the growth and survival of a bamboo plant. Amongst them, the most important to consider is the hardiness zone.
You'll have to make sure you're buying the right bamboo that tolerates your climate. If not, your bamboo might get damaged, you might hamper the long term growth of the plant, or it will simply die rather quickly.
Knowing your hardiness zone helps you identify plants that can tolerate the (freezing) winter temperatures in your region. A knowledge of this would guide you to determine the variety of bamboo species to plant.
USDA Zones vs RHS Ratings
The hardiness zone map is a standard introduced by the US Department of Agriculture (USDA). It's now commonly used around the planet and some countries adapted the system to their own needs.
Great Britain, for example, has its own hardiness zones made by the RHS. You can see the difference by looking at the designation: H1a – H7. While USDA zones go from cold to hot (USDA 11 being the hottest), the UK growing zones do it the opposite way. H1a is the hottest and H7 the coldest.
Most bamboo varieties thrive between USDA zones 4 through 11, which is (H7-H1c). The UK serves H5-H2 (USDA 7a-10a). You see, you can definitely grow some bamboo species. Not all, but some.
For those living in the southern half of the UK, bamboo is likely to grow well just like in the temperate gardens. Further north, bamboo would take a longer time to grow and they may never reach the sizes in warmer areas.
See what species grow in your UK Hardiness Zone:
Are there bamboo species that are invasive?
Besides the climate conditions, you also must check for invasive plants that are prohibited. While bamboo has not been banned yet, you should do your research for your local area. There is a possibility that they are more strict about it where you live.
Brits have been urged to stop planting certain invasive bamboo plants. If left unchecked, some bamboo plants can spread out of control and invade nearby houses and lands.
These invasive bamboo types have tough roots called rhizomes. They run horizontally underground, which they got their name from: running bamboo. They can cause serious problems as their roots grow uncontrollably.
You can limit the spreading of these species by using root barriers. This would prevent an invasion, environmental impact, as well as problems with your neighbors.
You might be wondering how you'll identify an invasive bamboo? First off, the shop you'll buy the bamboo plants should give you this information. If you just bought a house with planted bamboo and they didn't tell you the species, you can check the roots. Invasive bamboo produces rapid runners underground (like horizontal stems with roots). They are not that deep (about 30 cm). Above ground, they shoot up vertical stems.
Here, you'll find some examples of invasive bamboo species:
Golden Bamboo (Phyllostachys aurea) is an aggressive fast-growing plant, it has destroyed native plants in many parts of the world. Although the plant creates a beautiful visual barrier for privacy, it spreads rapidly and is not easy to eradicate.
In parts of the USA, it's prohibited to grow Golden Bamboo. The genus Phyllostachys is overall a running bamboo. This means that all the species belonging to this genus are invasive.
Other invasive bamboo genera include Bashania, Chimonobambusa, Arundinaria, Clavinodum, Sasamorpha, Hibanobambusa, Indocalamus, Pleioblastus, Semiarundinaria, Pseudosasa, Sasaella, Sinobambusa and Yushania.
Fortunately, not all species of the bamboo plant are invasive. Some species of this amazing plant are adorable and can serve as beautiful privacy screens. You can grow bamboo in the UK but ensure that you plant species that are not invasive or that you control it.
What bamboo grows well in the UK?
Great Britain is one of the many regions of the world where you can grow bamboo. Over the years, the bamboo plant has gained popularity in the UK. However, there are specific species of this plant that do well in these temperate regions. They are the same ones that do well in the Pacific Northwest because it's generally the same weather conditions.
Temperate climate conditions are great for some bamboo plants. Most of the time, winters are wet and summers are really warm in the UK. So, we'll look at bamboo plants that adapt perfectly to this type of climate.
When it comes to soil, bamboo's requirements are clear: moist, well-drained, neutral, or acidic, but most importantly not chalky. You should prevent your soil from extremely dry conditions and swampy (waterlogged) situations.
Non-invasive clumping bamboo that grows in Great Britain
As mentioned before, we would always recommend planting a clumping bamboo. You don't have to control the spread much as it only grows a few centimetres outwards every year.
Fargesia rufa 'Dragon Head Bamboo'
Height: 6-8 ft (1.5-2.2 m)
Stem diameter: 0.25 in (0.6 cm)
UK Hardiness Zones: H6-H4
Hardiness: -10°F (-23C°)
Light: Part shade, light sun
Soil: Clay, loam – acidic to alkaline
Watering: Average
This bamboo is a very beautiful plant that can survive in a loamy soil. It is a short, bushy plant with narrow green leaves and pale pink culms. Fargesia rufa produces a good number of culms yearly.
You'll love the culms of this bamboo plant, they are dense, growing up to 2.5m in height and 1.5m in width. This bamboo plant is attractive and perfect for your garden. It makes irresistible screens.
Fargesia murielae 'Umbrella Bamboo'
Height: 10-13 ft (3-4 m)
Stem diameter: 0.5 in (1.3 cm)
UK Hardiness Zones: H6-H4
Hardiness: -20°F (-29°C)
Light: Part shade
Soil: Loam – acidic to alkaline
Watering: Regular
Fargesia murielae is also known as Umbrella Bamboo. It has beautiful evergreen leaves that grow so heavy so that the culms bend outwards. This bamboo plant is very tolerant of sunlight and wind. You'll get the best of this plant when it gets some degree of shade.
Umbrella bamboo can survive even in extremely low temperatures. It is considered an exceptionally dense variety of bamboo as it has a width of 2.5 m and grows to a maximum height of 4 m. Fargesia murielae is a great choice for privacy screen or hedging. It creates a luxurious screen of healthy culms, adding style to a British garden.
Fargesia robusta 'Campbell'
Height: 12-15 ft (3.5-4 m)
Stem diameter: 0.75 in (1.9 cm)
UK Hardiness Zones: H6-H4
Hardiness: 0°F (-18°C)
Light: Part shade, light sun
Soil: Clay, loam – acidic to alkaline
Watering: High
These species of bamboo originate from China. They are popularly known as Campbell Bamboo. We have a full article about this Fargesia species here.
If you've ever wanted a dense checkered screening plant, Fargesia robusta is the way to go. Its upright green culms develop bright sheaths that give it the special look. With a maximum height of 4.5 m and very dense display, it will give you plenty of privacy. Each plant grows about 1.5 m wide.
Although Campbell's Bamboo tolerates partial shade, you'll see it'll do fine in the sun. Unlike other Fargesias, it won't curl up its leaves in full sun. Campbell requires proper watering to flourish bountifully.
To keep this bamboo looking great, remove dead stems in spring. Display the beautiful stems by thinning, this would enhance the aesthetics of this plant.
Fast-spreading running bamboo for the UK
These running bamboos will grow fast in Great Britain – and I mean this in height and width. Make sure you are installing root barriers!
Phyllostachys edulis Bicolor 'Moso Bamboo'
Height: 30-90 ft (9-27 m)
Stem diameter: 4-7 in (10-18 cm)
UK Hardiness Zones: H6-H2
Hardiness: 0°F (-18°C)
Light: Full sun, part sun
Soil: Loam – acidic to alkaline
Watering: Average
This bamboo is an incredibly fast-growing plant also known as Moso Bamboo. It won't just give you privacy, you can create your own bamboo forest. Phyllostachys edulis Bicolor is a gorgeous giant bamboo with thick yellow culms. It has green stripes for a beautiful display – this is why it's called Bicolor.
This bamboo is quite scarce in the UK but you'll get larger plants right away. You would love this plant for its lush green foliage. Moso Bamboo requires little maintenance but ensure that you give it plenty of space and constrain it to a given area by placing root barriers to prevent its unwanted spread.
Phyllostachys humilis 'Scottish Bamboo'
Height: 10 ft (3.28 m)
Stem diameter: Less than 1 in (less than 2.54 cm)
UK Hardiness Zones: H6-H2
Hardiness: -10°F (-23 °C)
Light: Full sun, part shade
Soil: Loam, clay, or sand – acidic to alkaline
Watering: Average
This species of Phyllostachys bamboo is one of the smallest. You'll notice its colorful reddish shoots, which will turn mint green and then rusty as they mature. Its foliage is thick and lush green. It extends to the ground nicely, these features make this bamboo a nice choice for creating privacy screens.
Humilis thrives in confined areas and is tolerant of pruning. You may cut the lower branches to reveal the amazing stems. Scottish bamboo thrives in well-drained soil and can resist short periods of drought. For increased growth, place the plant in sunny positions.
This bamboo tolerates temperatures as low as -25°C. Any further drop in temperature may cause damages to the plant. This variety may be a perfect choice for you if you are looking for something that requires little maintenance effort and is simply eye-catching. Scottish Bamboo has no problem with being confined which makes it a great urban privacy hedge. Learn more about P. humilis in this article!
Phyllostachys Atrovaginata 'Incense Bamboo'
Height: 30 ft (9-14 m)
Stem diameter: 2.75 in (6.99 cm)
UK Hardiness Zones: H6-H2
Hardiness: -10°F (-23.33°C)
Light: Full sun, part shade
Soil: Loam, clay, or sand – acidic and neutral
Watering: Regular
This is another Phyllostachys variety that creates outstanding privacy screens in exposed locations. Why? Incense bamboo is not just beautiful but fast-growing. Its culms are upright and very strong.
In a few years, this bamboo plant can get to 8 meters. With a bamboo barrier, you really don't have to worry about its spread. You see, Phyllostachys Atrovaginata is an ideal choice if you are in a hurry to get a lovely screen.
When the canes of this bamboo species are rubbed together, they give off a scent of incense. Hence, its name – Incense Bamboo. Shield this bamboo from cold winds. This variety can be invasive in warm climates. It tolerates wet conditions and loves sunlight.
Phyllostachys arcana
Height: 9.84 ft (3 m)
Stem diameter: 1.18 in (3 cm)
UK Hardiness Zones: H6 – H1c
Hardiness: 5°F (-15°C)
Light: Full sun, part shade
Soil: Loam – acidic and neutral
Watering: Average
The narrow green leaves and strong grey culms of this plant are breathtaking. Phyllostachys arcana has the capability to grow really tall in warm temperatures. This plant stands out for its well-spaced upright culms. This plant can withstand temperatures down to -15°C.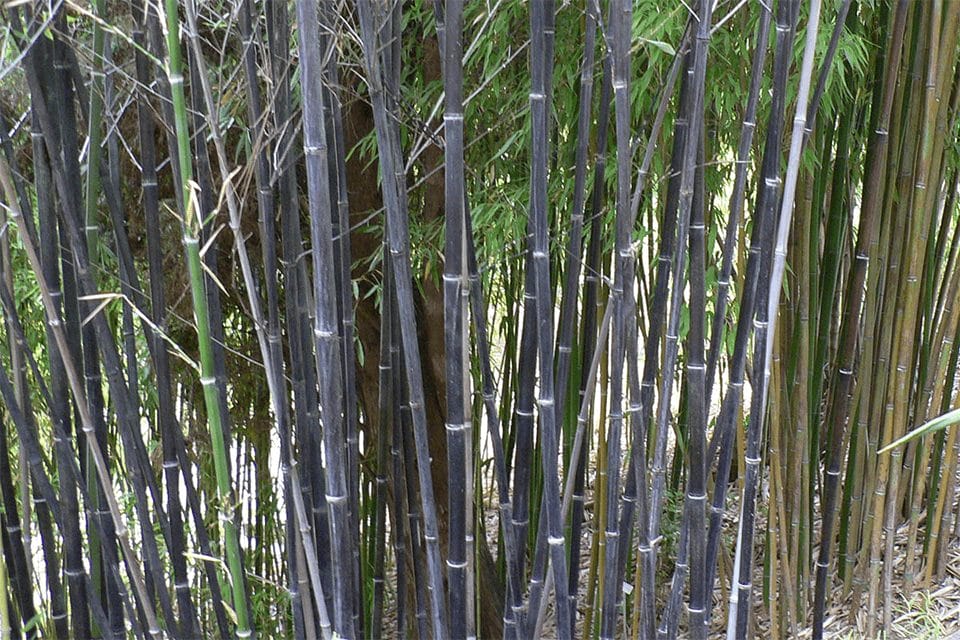 Phyllostachys nigra 'Black Bamboo'
Height: 20 ft (6.1 m)
Stem diameter: 2.25 in (5.71 cm)
UK Hardiness Zones: H6 – H2
Hardiness: 5°F (-15°C)
Light: Full sun, part shade
Soil: Moist, well-draining soil, humus-rich
Watering: High
Phyllostachys nigra is an exceptional bamboo plant with unique ebony black culms. The culms get even darker in direct sunlight. This bamboo has small dark green leaves and edible shoots. This bamboo plant looks best in spring as new canes appear with lush foliage. Learn more about Black Bamboo here.
Semiarundinaria Fastuosa 'Narihira Bamboo'
Height: 25 ft (7.6 m)
Stem diameter: 1.5 in (3.81 cm)
UK Hardiness Zones: H6 – H3
Hardiness: -5°F (-20.56°C)
Light: Full sun, full shade
Soil: Moist, well-draining soil
Watering: Regular
If you are looking to get an evergreen privacy screen that has an irresistible beauty for getting attention, this bamboo species is ideal for you. Narihira Bamboo is really slim and stands out from the others for its aesthetic appeal.
This decorative bamboo has tightly packed golden yellow canes that turn red when exposed to sunlight. To get the best effect, plant in humus-rich, well-draining soil.
Narihira is a running bamboo with clumper characteristics. So, it doesn't spread as far as other runners. To resist the spread of the plant, use root barriers.
Pleioblastus simonii
Height: 20 ft (6 m)
Stem diameter: 1.5 in (3.81 cm)
UK Hardiness Zones: H6 – H3
Hardiness: -4°F (-20°C)
Light: Full sun, part shade
Soil: Moist
Watering: Regular
This bamboo has long, narrow, and green leaves. Its culms are green and upright. All these features make Pleioblastus simonii perfect for screening. To keep this bamboo looking awesome, regular thinning is required. This would create a steady supply of strong straight culms.
On a final note, I want to recommend buying your plants locally. I know I have linked to online shops but only to give you an idea of how much to expect. Buying locally enables you to learn how the plant grows best in your specific area. You will also be supporting a local industry! It also should help with picking plants that are going to work for your region
We hope you've found the perfect bamboo plant for your garden. Got any questions for us? Leave us a comment.