Just like their living counterparts, artificial bamboo plants are ideal for screening. But while real bamboo can be tricky to grow in pots or small spaces, artificial bamboo requires little to no care and takes up minimal space. So whether you're looking for an indoor partition, home office backdrop, or outdoor patio privacy screen, artificial bamboo screening plants are a great option to consider.
As with any home decor, the artificial bamboo plant you choose for screening depends on a number of factors, including aesthetics, budget, and available space. For example, if you're looking for a tall privacy screen, you might consider an option that's at least 6 feet (72 inches) tall. Similarly, you'll have to decide whether you prefer silk or plastic leaves; both have their pros and cons.
If you're ready to reimagine your space with artificial bamboo screening, but have no idea where to start, you're in luck! We've curated a collection of some of the best artificial bamboo screening plants to help you on your way.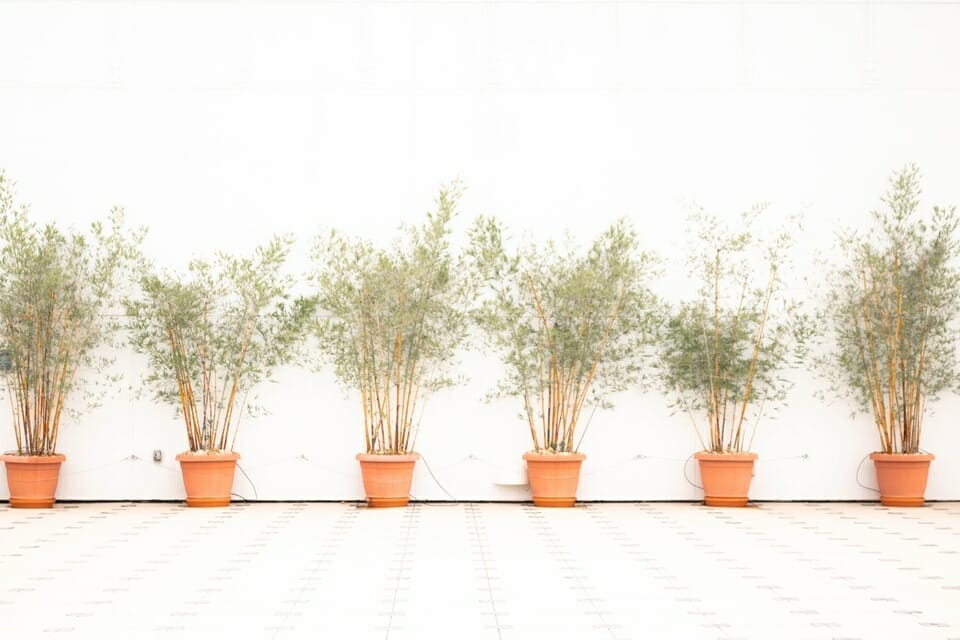 Do you want to jump ahead?
Benefits of using artificial bamboo for screening
Are you on the fence about whether to use real bamboo or faux bamboo plants to create a privacy screen? While real bamboo can be an effective screening option, it's important to recognize that bamboo requires sufficient space and regular care to develop properly.
By contrast, artificial bamboo plants take up very little room and require no soil to grow in. This makes them a great option if you're looking to create a privacy screen indoors or in a small outdoor space.
Besides being more space-efficient, there are a number of benefits to using artificial bamboo for privacy screening:
Consistent screening
First, a screen made from artificial bamboo plants is consistent. That is, while a living bamboo plant can drop leaves seasonally or when it is stressed, artificial bamboo plants will always have all of its leaves. This results in a screen that is consistently dense and private.
Moreover, a faux bamboo privacy screen won't grow unruly and therefore requires no pruning. In fact, it won't grow at all, nor will it succumb to disease or fluctuations in climate. Instead, your artificial bamboo screening will remain uniform and aesthetically pleasing throughout the year, mixing functionality with a consistently beautiful aesthetic.
Flexible location
When you plant true bamboo in the ground, you first have to take into consideration factors such as space, sunlight, soil quality, and watering requirements. These factors can limit where you plant a live bamboo privacy screen. By contrast, a faux bamboo privacy screen can go almost anywhere; even indoors!
Plus, artificial bamboo plants are lightweight, so you can easily move your privacy screen if you want to change the arrangement. For this reason, artificial bamboo plants are an excellent option for renters, because they require no landscaping and you can simply take them with you when you move!
Immediate privacy
If you were to plant real bamboo for a privacy screen, you'd have to wait a while for it to mature. Although bamboo grows very quickly, it can still take a few years for the bamboo to reach a mature size. In the meantime, you may not have the privacy that you want or need.
If you need a privacy screen in a hurry, whether to block out nosy neighbors or to create a beautiful partition, artificial bamboo plants are the way to go!
Best artificial bamboo screening plants
If you're planning a privacy screen with artificial bamboo plants, you'll want to choose fake bamboo that's full and bushy for plenty of coverage. Depending on where you want to set up your screening, you'll also want to consider factors such as height and size as well as whether it will be outside or inside.
Furthermore, a great artificial bamboo plant should not only be able to provide privacy, but it should also look every bit as real as its counterpart. A high-quality artificial bamboo plant is functional as well as beautiful.
Here are our top artificial bamboo plant picks for a variety of spaces and needs:
Best for privacy: Bamboo Life 72″ Faux Bamboo Tree in Pot
This artificial bamboo plant from Wayfair is full of gorgeous and adjustable foliage perfect for creating your ideal indoor or outdoor privacy screen. This option is great if you're looking for a faux bamboo plant that is low maintenance, as it is made from plastic, making it easy to wipe clean with a damp cloth. Additionally, its plastic leaves make it suitable for outdoors, though the color may fade if placed directly in the sun.
This faux bamboo tree is easily mistaken for the real thing due to its delicate and peaceful, zen-like appearance. It comes ready in an elegant pot and plastic base, which are also easy to keep clean. This is our top choice for indoor/outdoor use, though we recommend keeping it out of direct sun if possible, such as under a balcony/patio cover.
Most realistic: 72″ Faux Bamboo Tree in Ecopaper Pot Liner
This high-quality artificial bamboo plant is full of delicate silk foliage that extends nearly to the base of the pot, perfect for privacy screening or decoration. This faux bamboo tree from Wayfair is a combination of plastic, wood, foam, and rocks and looks so close to the real thing that you'll be sure to fool all of your guests!
The materials used in this product make it easy to clean with a soft dry cloth. Due to its silk leaves, it should be used indoors only. This 72" tall faux bamboo tree comes ready in a plastic pot that you can easily hide in the included Ecopaper pot liner.
Best all-around: 72 in. Artificial Bamboo Plant with Pot
Do you love the look of dark green stems? This 72"-tall artificial bamboo plant is made from wood and a very lifelike polyester. It ships ready to go in an elegant plastic pot, and its branches and leaves are fully adjustable so you can shape your bamboo screen however you like.
The leaves of this fake bamboo plant are made of plastic, making them suitable for indoor/outdoor use. They are easily wiped clean with a soft, damp cloth. This is a great all-around option for at home, in the office, or even in restaurants.
Most affordable: 64 in. Artificial Bamboo Silk Tree
If you're on a budget, this 64"-tall artificial bamboo silk tree is a great option. Its slightly smaller size makes it ideal for smaller spaces or purely decorative screening, such as in a restaurant or office. But don't let its size fool you; even at a smaller size, this silk bamboo plant has over a thousand leaves, which result in very dense foliage.
Artificial silk bamboo plants appear more realistic than their plastic counterparts, but they are also best suited for indoor use only. You can wipe the silk leaves clean with a microfiber cloth if needed.
Best for short hedges: Artificial Bamboo Silk Tree 3ft
If you're looking for a much shorter bamboo screen or hedge, this 3-foot artificial bamboo plant from Amazon is an excellent choice. It's ideal for creating a short divider in your space, whether indoors or outdoors under protection. Its silk leaves give it a delicate and realistic appearance.
This product comes in an affordable pack of two, making it easy to build a bamboo screen with multiple plants. Each artificial bamboo silk tree comes ready in its own plastic pot, though you can choose to place it in a decorative cache pot of your liking. Because these artificial bamboo plants are lower to the ground, they are sturdy and less likely to topple over in the wind, which is a bonus if you choose to place them outside!
FAQ about artificial bamboo plants
Why are most artificial bamboo plants called "bamboo trees?"
While true bamboo is a type of grass from the Poaceae family, it often resembles a tree. Especially larger species of bamboo have thick culms that resemble tree trunks, which are often harvested for use in construction. Similarly, artificial bamboo plants have tree-like characteristics, so manufacturers will often refer to them as trees for the sake of marketing.
Is it difficult to install artificial bamboo screening?
Depending on the manufacturer, artificial bamboo plants are quick and easy to assemble. Most come fully intact, so all you need to do is take it out of the box, set it in your ideal place, and adjust the leaves to your liking.
If you're creating an artificial bamboo screen for outdoors, you may want to take additional steps to ensure it doesn't blow over in the wind, such as by adding stones to the base. But overall, artificial bamboo is low maintenance and easy to set up as a screening.
Can you keep artificial bamboo outdoors?
Yes, you can keep most artificial bamboo plants outdoors as long as they are suitable for outdoor use and you give them reasonable protection from the elements. As a rule of thumb, fake bamboo plants with plastic leaves do better outdoors than ones with silk leaves, as the silk leaves tend to fade quickly under bright sunlight.
Learn more about how to take care of outdoor artificial bamboo here!
Are you looking to create a bamboo screen for your home or office? Let us know which fake plant you decide to go with by commenting below!