Black bamboo is the general name for a bamboo species with beautiful black culms, unlike typical green ones. People love the striking look of black bamboo due to its unique exterior.
But what most of us don't know is that the ebony doesn't start that way it takes time for them to mature into the black color they are known for. They only give a hint of their dark maturity in their first year of growth, and it will take three years for the culms to darken.
There are numerous forms and cultivars that are perfect for screening, several of which are manageable for all types of gardeners.
What is black bamboo?
These bamboo varieties are about the color of the culm (stem). There are many bamboos with black or almost black culms. Some, like the Phyllostachys nigra are relatively common, others are rare collector's bamboos, which are more difficult to find.
Black bamboo is fascinating to gardeners because it can be grown both in a container on a balcony or terrace or as a beautiful bed in your garden.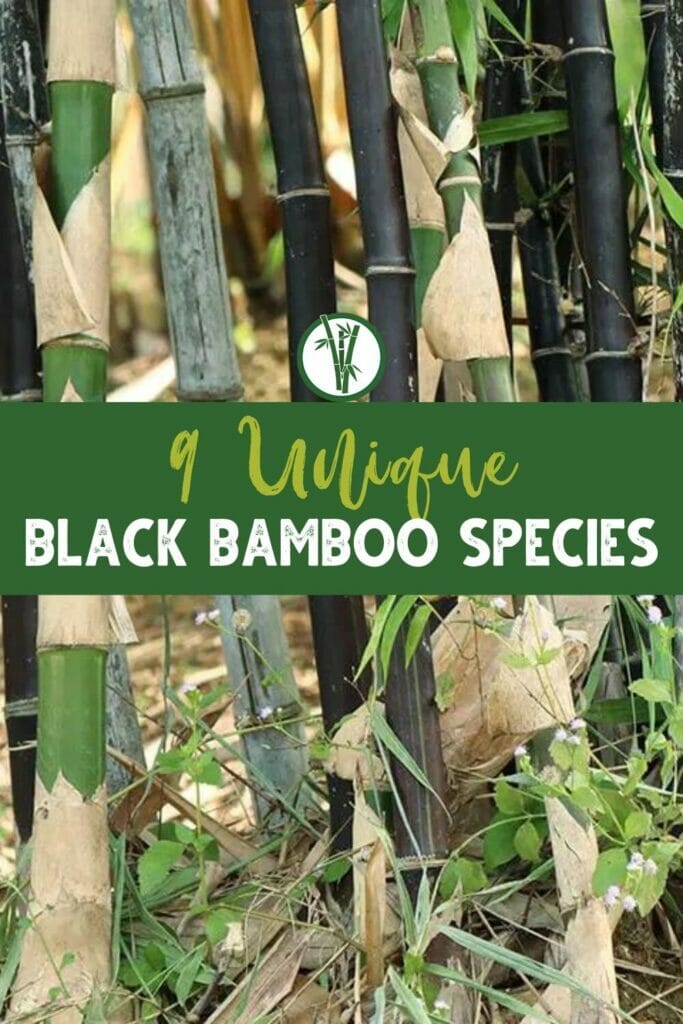 If you use them to compose a hedge, you can also consider alternating spectacular bamboo culms in different colors.
There are several varieties of Black Bamboo, and yes, there are both clumping and running species. Each bamboo has its unique growing conditions.
Clumping Black Bamboo
Clumping Black Bamboo is ideal for planting around your property because they don't spread as much. They stay within a certain area (the clump) and grow only a few inches outward every year.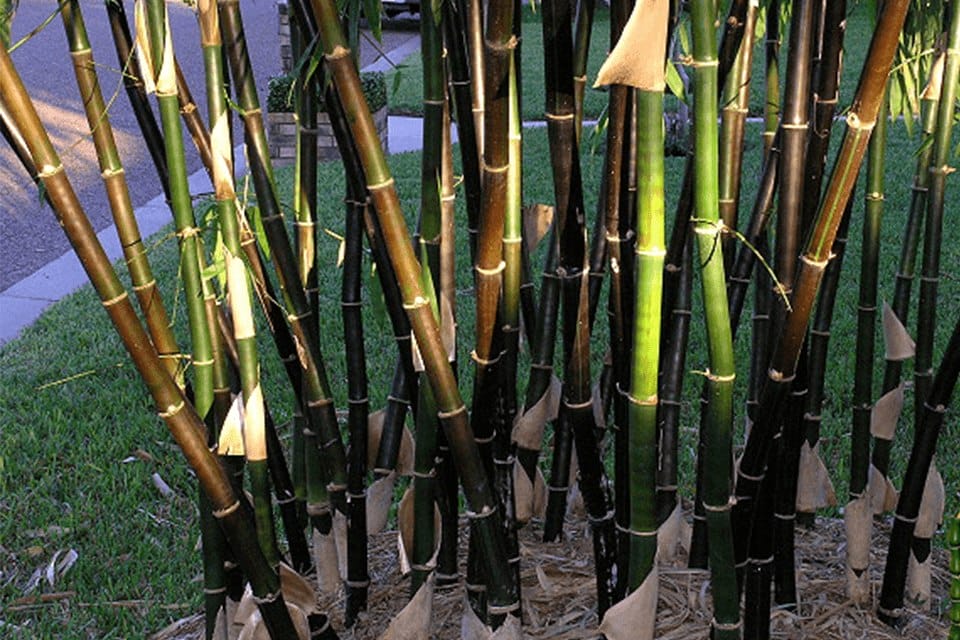 Bambusa Lako (Timor Black Bamboo)
Height: 39-40 ft (12-15 m)
Stem diameter: 1-3 in (3-8 cm)
USDA Zones: 9-11
Hardiness: 25°F (-4°C)
Light: Full sun, unless lower than zone 9, where it will need the protection of a larger tree
Soil: Well-draining soil
Watering: Moderate
This is a popular variety of clumping Black Bamboo that looks amazing in a tropical landscape. What begins as a green culm eventually grows into a rich coffee brown, and then darkens to its signature black.
Timor Black is a large ornamental bamboo with bushy dark green foliage that contrasts wonderfully with the onyx coloring. This species can be planted into narrow garden beds or maintained smaller to suit your needs.
You can plant as a single feature or as a light screening solution. The black culms of these species will eventually fade to a white/grey color as they die off.
Gigantochloa atroviolacea (Java Black or Tropical Black Bamboo)
Height: 26-40 ft (8-12 m)
Stem diameter: 2-3 in (6-8 cm)
USDA zones: 10-11
Hardiness: 28°F (-2°C)
Light: Full sun
Soil: Well-draining soil
Watering: Regular
Java Black is another clumping bamboo, but bigger and less upright than Bambusa lako. Culms begin as dark green and evolve into a purplish-black with pale white nodes.
An easy way to differentiate Java Black from Bambusa lako is by the rings between the bamboo nodes. While Java Black has thick white bands, Bambusa lako has black thin bands. Java Black is a deep black while Bambusa lako can be a rich eggplant purple.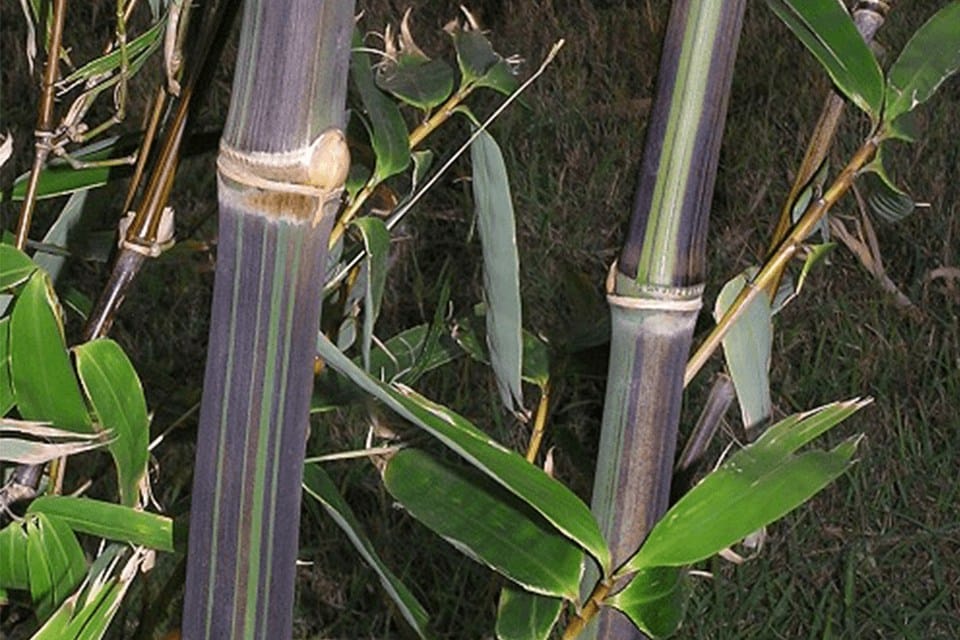 Dendrocalamus asper (Black Asper or Betung Hitam)
Height: 98 ft (30 m)
Stem diameter: 11 in (30 cm)
USDA zones: 10-11
Hardiness: 23°F (-5°C)
Light: Full sun
Soil: Well-draining soil
Watering: Average
This is a black version of the famous Asper bamboo, but it is a rare variety for enthusiasts. It is a non-invasive, clumping bamboo with large leaves, and grows the fastest of all the big bamboo. Also, the shoots are edible and sweet – a delicious touch to an already impressive bamboo.
Once established, this Indonesian bamboo becomes drought-tolerant, able to withstand frost as cold as 23°F. Due to its impressive size, Black Asper looks beautiful as a single feature on a large rural property. In ideal conditions, it can grow to nearly 100 feet (30 m).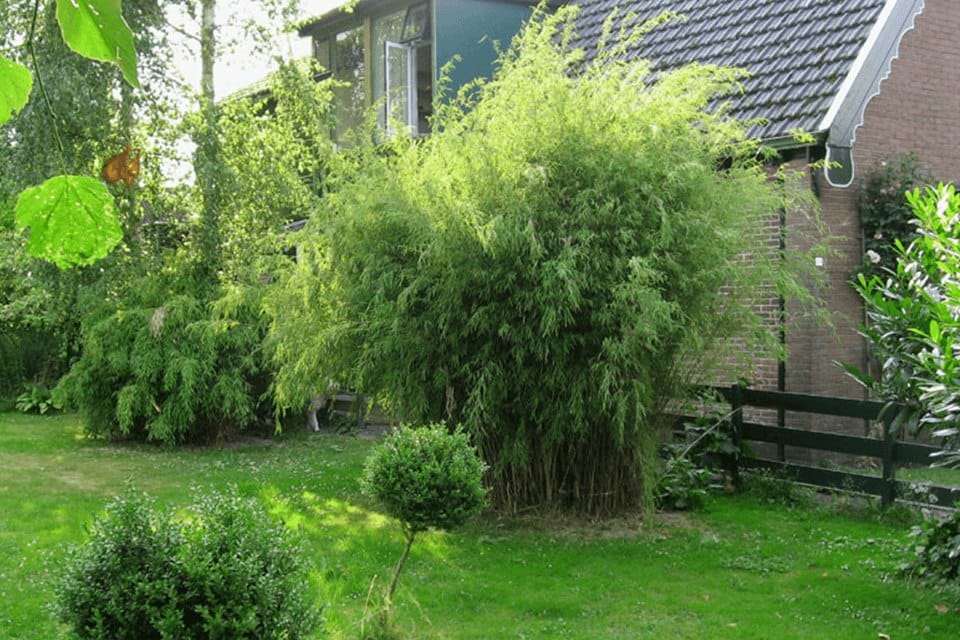 Fargesia nitida 'Black Pearl' (or 'Blue Fountain')
Height: 10-15 ft (3-4.5 m)
Stem diameter: 0.75 in (2 cm)
USDA zones: 5-9
Hardiness: -20°F (-29°C)
Light: Full shade, part shade
Soil: Well-draining soil
Watering: Regular
Named after the drooping fountain illusion the canes form in maturity, Fargesia nitida is an elegant clumping bamboo with a delicate appearance. They live for an impressive number of years–some as long as over a century. There are several variations of this genus, including the Ravenwood with black, deep-purple stems.
Fargesia nitida is virtually disease-free, making them a great option to grow in your garden. For best results, plant them in a semi-shaded position, since the leaves will curl up in strong sunlight. Fertile, moisture-retentive soils will allow this bamboo to culminate into its full, impressive potential.
Fargesia is a non-invasive bamboo, making it perfect for growing in a pot, on your patio or balcony, or as an addition to your garden.
Fargesia nitida 'Trifina'
Height: 9-11 ft (3-3.5 m)
Stem diameter: 0.4 in (1 cm)
USDA zones: 4-7
Hardiness: -4°F (-20°C)
Light: Full sun, part shade
Soil: Well-draining soil
Watering: Regular
Trifina is rugged yet aesthetically pleasing. With its purple-black stems and contrasting evergreen leaves, it's a beautiful addition to any space or garden.
It may need time to recover from the winter, but in late spring the black stems and shamrock green foliage begin to come out. Eventually, the culms will fade into a near-black color. This beautiful bamboo thrives when isolated, or planted in a bed, terrace, or balcony, making it a great addition to a small space.
Borinda fungosa (Chocolate Bamboo)
Height: 12-20 ft (3.5-6 m)
Stem diameter: 1 in (2.5 cm)
USDA zones: 8-10
Hardiness: 10°F (-12°C)
Light: Part shade, light shade
Soil: Well-draining soil
Watering: Moderate
Borinda fungosa is a beautiful bamboo with unique chocolate-colored canes that begin as a lighter shade and darken with age. Its evergreen foliage and slender leaves are a wonderful complement to any garden or hedge. The culms are often used for weaving, and the shoots are edible and sweet.
Chocolate Bamboo, previously called Fargesia fungosa, is non-invasive, which makes them great for a hedge or screen in its natural or pruned state.
Black Running bamboo varieties
These Black Bamboo species develop rhizomes under the surface to grow. They are very invasive and need to be contained with a root barrier or within a planter.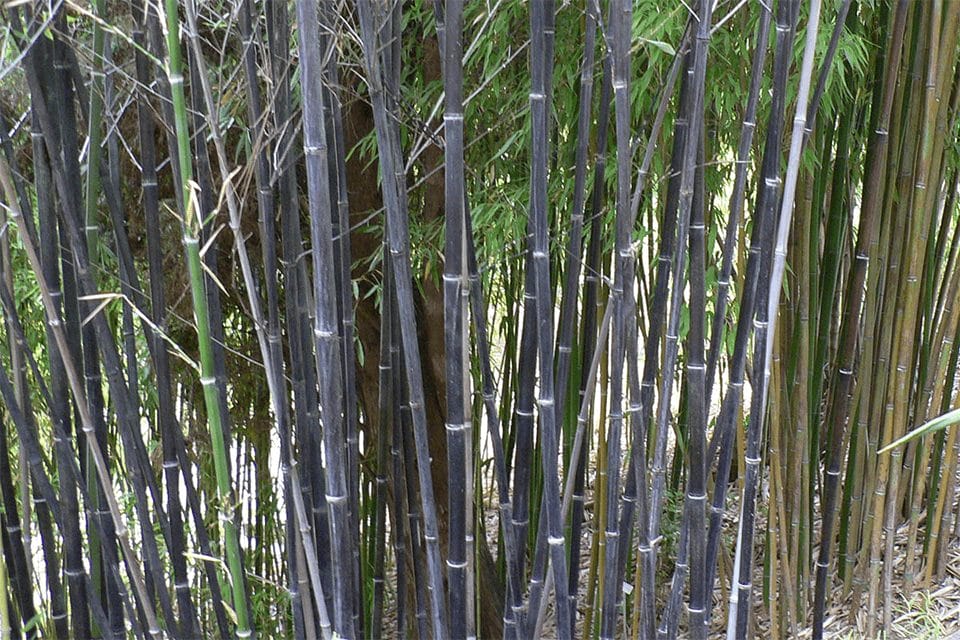 Phyllostachys nigra
Height: 20-35 ft (6-10.5 m)
Stem diameter: 2.25 in (5.7 cm)
USDA zones: 7-10
Hardiness: 5°F (-15°C)
Light: Full sun, part shade
Soil: Full sun, part shade
Watering: High, likely to require supplementary watering in warmer months
Phyllostachys nigra is the king among black bamboos. Prized as a garden ornament with its extraordinary evergreen leaves with tall, refined black canes. Its olive-green culms turn into a deep inky black within 2-3 years.
Due to its impressive size and physique, Phyllostachys nigra makes an imposing addition to any landscape. You should ensure to grow it in rich topsoil composed of manure and mulch. Otherwise, the clusters will grow tightly together with weepy, thin culms. Phyllostachys nigra can be grown in a large area as a garden focal point, or in a pot as an elegant statement piece.
This black bamboo species has some different cultivars which we will be covering next.
Phyllostachys nigra 'Megurochiku' (Black Stripe Bamboo)
Height: 35-45 ft (12.5-13.7 m)
Stem diameter: 3.0-3.5 in (7.6-8.9 cm)
USDA zones: 7-10
Hardiness: 0°F (-20°C)
Light: Full sun
Soil: Well-draining soil
Watering: Regular
Megurochiku is rarer than Phyllostachys nigra. It originated from a Japanese island and was once protected from collection. What begins as an olive-green bamboo blossom into a copper hue with a black internodal groove.
It is similar to Phyllostachys nigra 'Henon' in both form and growth habit, and many culms eventually turn completely black. The leaves are feathered and small which makes a great hedge or grove.
Partial shade or full exposure to the sun suits this bamboo perfectly. It is drought-resistant and quite hardy like many P. nigras. However, since it is invasive, it is necessary to install a rhizome barrier.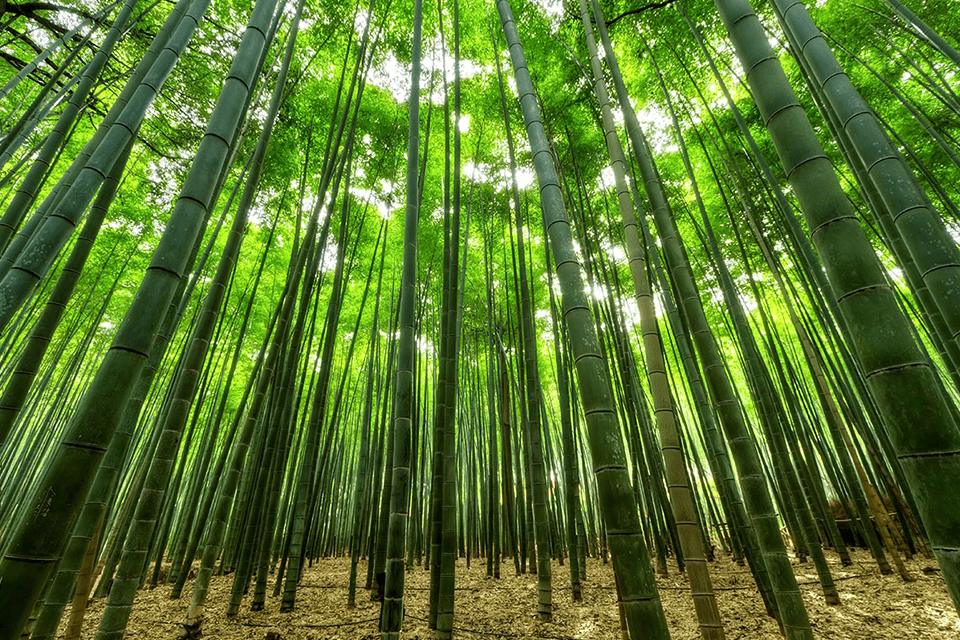 Phyllostachys nigra 'Henon' (Giant Gray Bamboo)
Height: 50 ft (15 m)
Stem diameter: 5 in (13 cm)
USDA zones: 7-10
Hardiness: -5°F (-21°C)
Light: Full sun, part shade
Soil: Moist, well-draining soil
Watering: High
Phyllostachys nigra 'Henon' is thought to be the species from which Black Bamboo originated. It is an impressively massive and strong bamboo that reaches great heights and has good wood quality. Although it is a P. nigra, it has more distinctive culms that transform into a ghostly gray with time.
Henon is a great choice for anyone seeking to grow a gorgeous bamboo forest, or simply a smaller pot as an accent piece. Either way, this unique bamboo makes a statement wherever it grows.
As you can see, Black Bamboo comes in several wonderful varieties that make it easy to fall in love with each one.
Which bamboo stood out to you? Let us know in the comments below!