If you're looking for a unique bamboo that offers privacy, beauty, and practicality, you should consider a variety of the Chusquea genus. This popular bamboo genus consists of over 150 bamboo species and subspecies (cultivars), so you'll be sure to find the perfect variety for your space.
What sets Chusquea bamboos apart from other bamboos is the fact that they grow solid culms rather than hollow ones. This makes them a great candidate for use in construction, though they're just as likely to be grown as an ornamental.
While most species of Chusquea bamboo are tropical, some species thrive in the extreme environments of high altitude. Chusquea bamboos are a clumping type, so they're unlikely to be invasive and are easy to maintain. Read on to learn all about the Chusquea genus of bamboo!
Do you want to jump ahead?
Characteristics of Chusquea bamboo
Chusquea bamboos are native to the tropical and subtropical regions of Central and South America, growing naturally from Central Mexico to Chile. A majority of Chusquea bamboo species grow in humid forests, but some hardy species are known to grow at remarkably high altitudes. As a result, the genus is often referred to as South American mountain bamboos.
Let's take a look at some of the distinguishing features of the Chusquea bamboo genus:
Solid culms
The most unique feature of the Chusquea genus is that its culms grow solid rather than hollow. This feature makes them stronger and more pressure-resistant than other bamboo types.
It's also the main source of their economic significance in Latin America. Chusquea bamboo is often used in construction, crafting, and other woodworking projects.
Clumping growth habit
Chusqueas are a type of clumping bamboo, which means they have a clumping root system with 'sympodial' or 'pachymorph' rhizomes during growth. They grow differently from running bamboo that bears 'monopodial' or 'leptomorph' rhizomes.
What this means: Chusquea bamboos don't grow long rhizomes upward and away from the ground. Instead, they have seemingly U-shaped rhizomes that tend to stick close together and bend upward.
This clumping growth habit is often preferred by gardeners because clumping bamboos are non-invasive and are easier to maintain than running bamboos.
Cold-hardiness
Another exciting trait of Chusquea bamboos is their cold-hardiness. Most Chusquea species can thrive in temperate regions with cold winters.
Moreover, some Chusquea species are native to high altitudes and as a result can survive harsh winters that see temperatures as low as 0°F (-18°C)!
Unique appearance
Bamboo enthusiasts and collectors will be pleased to know that Chusquea bamboo species are unique in their appearance. While most bamboos produce a set number of branches from each node, Chusqueas grow branches all around the nodes.
Plus, the branches of Chusquea bamboos are relatively short compared to most bamboo plants. The leaves are typically small and narrow, growing in clumps with trailing branches and culms.
Interesting facts about Chusquea bamboo
The German botanist Carl Sigismund Kunth first identified the Chusquea genus in 1822.
Chusquea culeou, also called Chilean Feather Bamboo, is widely renowned for being South America's most frost-tolerant bamboo. A successful ornamental plant grown in Scotland, Chilean Feather Bamboo is one of the few bamboos with a high success growth rate in the temperate Northern Hemisphere.
During the War of Arauco, the Mapuche used Chusquea culeou to make spears and lances to ward off the enemy.
The Chusquea genus grows across a wide natural distribution, from 47°S to 24°N, or spanning Southern Chile through Central Mexico.
The Chusquea genus can grow at altitudes as high as 13100+ ft (4000 m)!
How to care for Chusquea bamboo
Chusquea bamboos mature quickly and many species can reach as high as 13 ft (4 m) in two years. The tallest Chusquea species can grow to a height of 20-50 ft (6-15 m). Fortunately, their clumping growth habit makes them relatively easy to care for.
While the taller Chusquea species are best grown directly in the ground, some of its smaller species can thrive in containers, either indoors or on a balcony.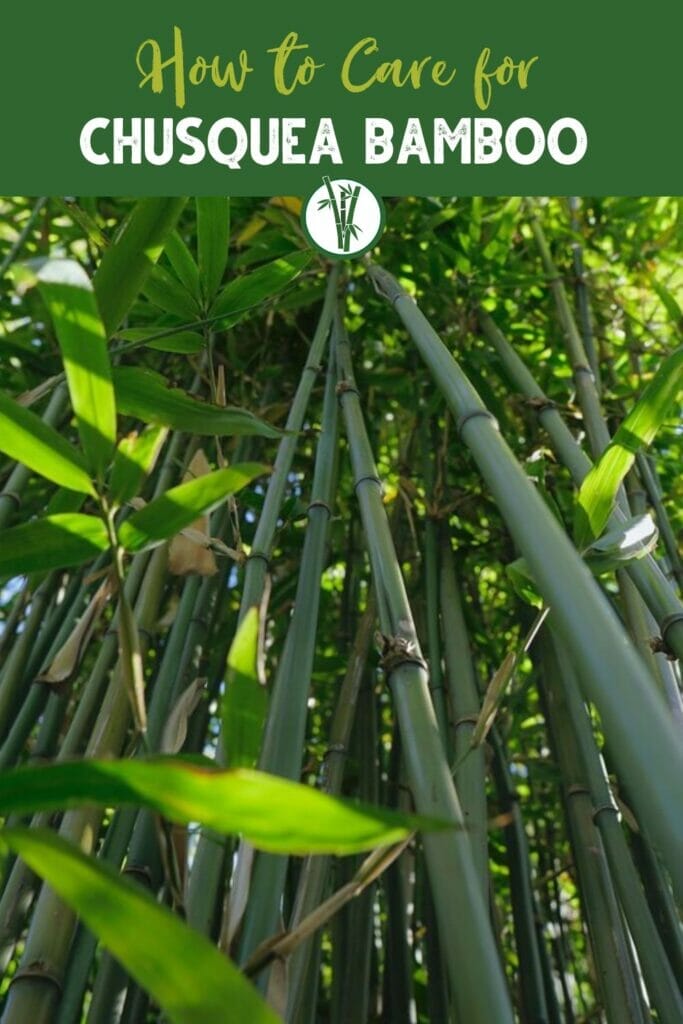 Soil
In general, Chusquea bamboo plants will grow best in soil that's moist, fertile, humus-rich, and well-draining. Amending your soil with organic material before planting is a good way to improve soil structure and make sure the bamboo has enough nutrients to grow.
Moreover, Chusquea bamboos prefer a soil that is slightly acidic. Plus, even though some species are cold tolerant, you can add mulch to protect young bamboo plants during winter.
Water requirements
One of the benefits of growing Chusquea bamboo in your garden is that this genus is known for being drought tolerant! However, while this means your bamboo plants should survive periods of drought, it's best to water them regularly, especially while young.
To keep the soil moist but prevent the bamboo from being overwatered, simply allow the top few inches of soil to dry out between waterings. Adding mulch is another way to improve moisture retention and reduce how often you need to water.
Light requirements
Chusquea bamboos prefer full sun or partial shade. However, if your area experiences extreme heat during the summer, you should only plant this bamboo where it gets shade during the hottest part of the day to prevent it from overheating.
Pruning
Chusqueas grow quickly, that's why some call them 'semi-runners.' You want to leave space between plants to accommodate this fast growth rate. Pruning the greenery yearly by cutting out the older, less attractive culms is a good way to keep the growth in check.
Even though Chusqueas are a clumping type of bamboo, you might consider installing a bamboo barrier to prevent it from spreading to other parts of your garden.
What Bamboo species belong to the Chusquea genus?
Here are some of our favorite species that make up the Chusquea genus: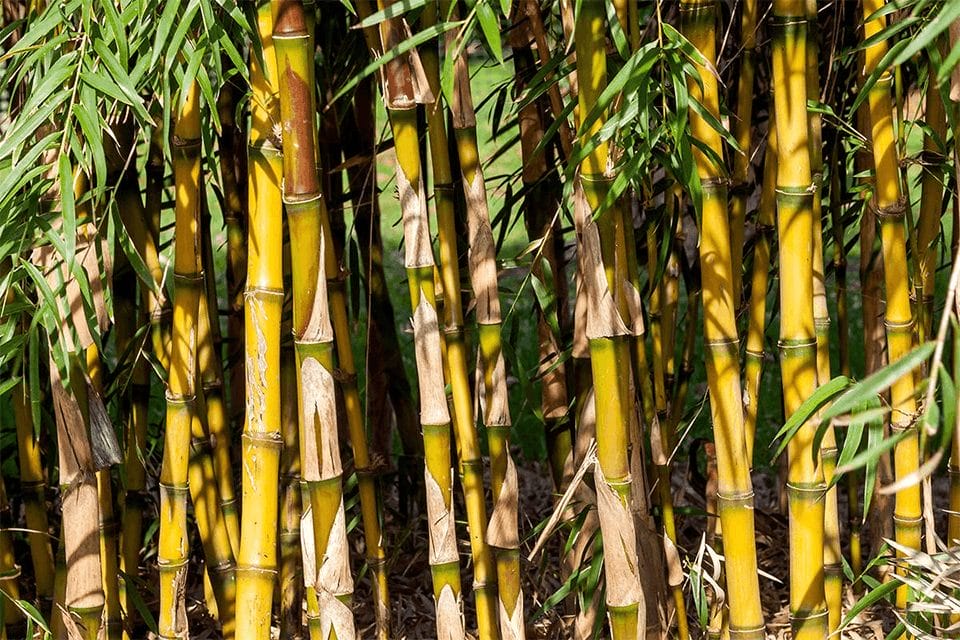 Chusquea gigantea
Height: 20-25 ft (6-15 m)
Stem diameter: 1-1.5 in (3-5 cm)
USDA zones: 7-9
Hardiness: 0°F (-18°C)
Light: Full sun, partial shade
Soil: Well-draining, moist, fertile, and humus-rich soil
Native to Central Chile, this amazing, tall-growing bamboo bears beautiful culms and masses of narrow willow-like leaves. Chusquea gigantea is a rare bamboo species that produces slightly open clusters, making it effective as a screening bamboo.
New culms of Chusquea gigantea have reddish-pink sheaths that may persist for several years. The culms themselves are green in color and mature to light green, but exact coloring may vary depending on sunlight exposure.
Chusquea gigantea is a recipient of the Royal Horticultural Society's Award of Garden Merit. You can plant Chusquea gigantea as a stand-alone specimen in your garden or as a privacy screen.
Chusquea perotensis
Height: 20-50 ft (6-15 m)
Stem diameter: 2 in (5.0 cm)
USDA zones: 6-9
Hardiness: 0°F (-18°C)
Light: Full sun, partial shade
Soil: Well-draining, moist, fertile, and humus-rich soil
One of the largest Chusquea species, Chusquea perotensis is native to Southern Mexico and the Mexican Gulf. Chusquea perotensis grows primarily in seasonally dry tropical areas. When mature, it can grow as tall as 50 ft (15 m)!
The culms of Chusquea perotensis are straight and thin-walled, appearing dark green in color. Chusquea perotensis is often used in construction for its tall, dense culms, but it also makes for a great privacy screen.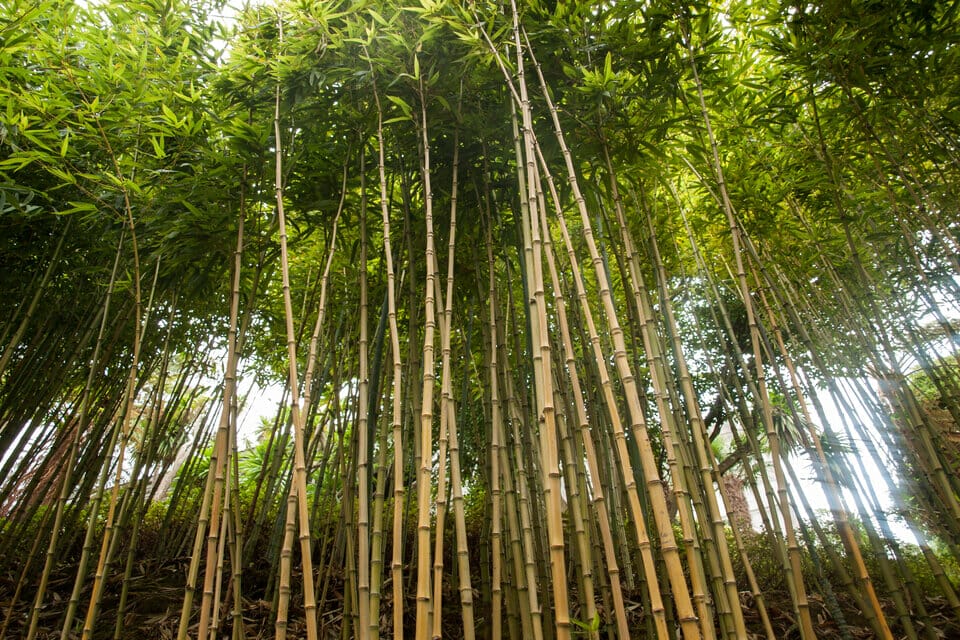 Chusquea culeou 'Chilean Bamboo'
Height: 10-20 ft (3-5 m)
Stem diameter: 1 in (2.5 cm)
USDA zones: 6-9
Hardiness: 0°F (-18°C)
Light: Full sun, partial shade
Soil: Well-draining, moist, fertile, and humus-rich soil
Chusquea culeou originates from Chile. A cold-hardy plant, Chusquea culeou is a great species for temperate regions.
Chilean Bamboo bears lance-shaped leaves with spines at the ends. Its culms are upright and attractive, ranging from olive green to yellow in color.
Another recipient of the Royal Horticultural Society's Award of Garden Merit, Chilean Bamboo would make a great addition to any bamboo garden.
Chusquea mulleri
Height: 5-10 ft (2-3 m)
Stem diameter: 1 in (2.5 cm)
USDA zones: 7-9
Hardiness: 20°F (-7°C)
Light: Full sun, partial shade
Soil: Well-draining, moist, fertile, and humus-rich soil
Chusquea mulleri is a smaller Chusquea bamboo species from the Mexican state of Veracruz. While it's not as cold-hardy as other Chusquea species, it's nevertheless a beautiful option to grow.
Chusquea mulleri bears thin, cascading dark green culms that are unique amongst Chusquea bamboos. Olive-green leaves grow in clumps along the culms and branches, giving it a bushy appearance. Plant this bamboo for a lower privacy hedge or try growing it in a pot for a beautiful addition to your home or garden.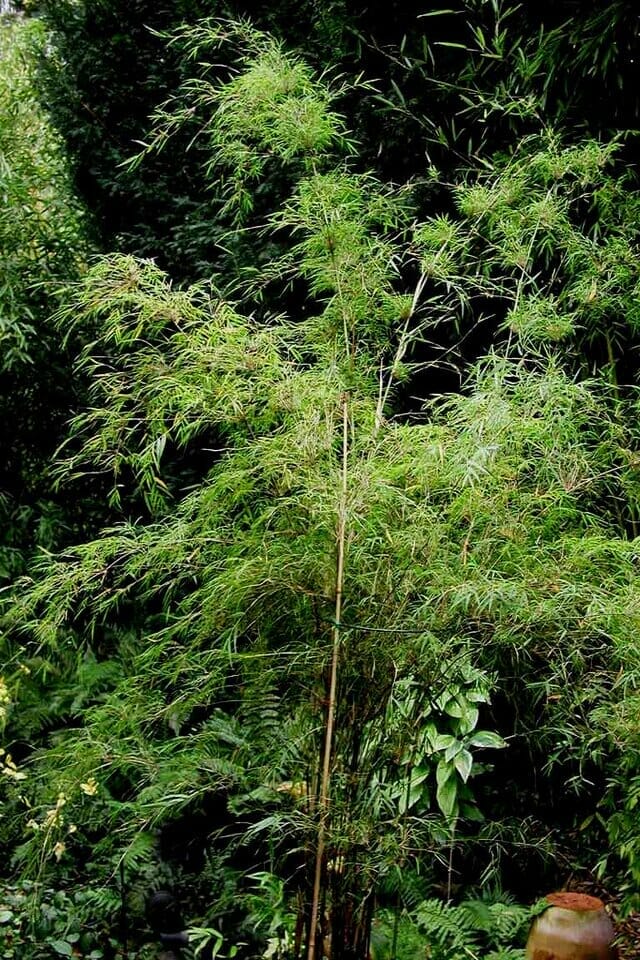 Chusquea mimosa 'Mimosa Bamboo'
Height: 6-20 ft (2-6 m)
Stem diameter: 2 in (5.0 cm)
USDA zones: 9-10
Hardiness: 20°F (-7°C)
Light: Full sun, partial shade
Soil: Sandy loam, clay loam
Mimosa Bamboo is a Brazilian species of Chusquea bamboo. New shoots emerge dark red in color, turning green as the culm sheaths fall away. As the culms grow taller, they become heavy with greenery and arch towards the ground. Its leaves are light and wispy, adding to the unique and cascading appearance of this bamboo.
Chusquea mimosa has a second subspecies, Chusquea mimosa 'australis,' that shares many characteristics with Mimosa Bamboo; red shoots, wispy leaves, and tall, green culms. Both varieties grow primarily in subtropical climates but can tolerate mild winters.
Chusquea sulcata 'Sulcata Bamboo'
Height: 15-20 ft ( 5-6 m)
Stem diameter: 2 in (5.0 cm)
USDA zones: 9-10
Hardiness: 20-250F (-7° to -4°C)
Light: Partial shade
Soil: Well-draining, moist, fertile, and humus-rich soil
Chusquea sulcata grows naturally across a large area from Veracruz, Oaxaca to Costa Rica. It thrives in tropical climates, but can tolerate freezing temperatures once established.
Chusquea sulcata bears golden culms with dark green nodes, with long, green leaves that spring from drooping stems. It's one of the most beautiful, graceful, and tropical-looking bamboos and would make a great statement piece.
What features of the Chusquea bamboo genus stand out to you the most? Let us know which species you'll be planting in your garden below!