From socks to scarves, bamboo is often used as a fabric for clothing nowadays. Not all of the over 1000 species in this plant group can be used for clothing though.
The variety of bamboo used to create fabrics is called Moso which is hardy and a speedy growing weed. The composition of Moso bamboo can be modeled as a fiber compound, with the vascular bunches serving as the fiber and the parenchyma as the pattern.
Bamboo fabric is used for a variety of apparel. It is perfect for sportswear because of its antimicrobial characteristics. Bamboo is often mixed with 30% cotton to supplement structure to clothes. Enjoy the satin feel of pillowcases and sheets because of its soft texture. Experience the warmth in winter and cooler touch in summer.
Bamboo has advanced throughout the fashion business. It has lots of features like other expensive fabrics like silk and cashmere have, however, the bamboo fabric comes at a more affordable cost.
The bamboo fabric, commonly known as bamboo rayon, is somewhat questionable. Apparently, the purpose of bamboo to create fabric is famous but there are lots of debates, arguments, controversies, and theories about using bamboo as clothing.
Do you want to jump ahead?
What is Moso bamboo?
Moso bamboo, Phyllostachys edulis, Phyllostachys pubescens, Mao zhu, OnlyMoso giant bamboo, or tortoise-shell bamboo is native to China and Taiwan and can be found elsewhere. In China, Moso bamboos are chiefly grown in the regions of Zhejiang, Hunan, and Jiangxi.
In 2016, Florida has become the first state to grow extensive bamboo agriculture. This covers growth from seedlings to harvesting which produces a steady supply of bamboo to local farmers.
It is a giant bamboo species that can be used from its stems to its succulent shoots. This variety can grow as high as 92 feet with 7-inch diameter culms. Bamboo shoots rise from rhizomes. They usually develop in the first 12 inches from the surface. It can increase or move out from 20 to 30 feet before germinating. The rhizomes can spread in many places from its initial shoot, which is also a characteristic of running bamboo.
It is the most well-known species used in the bamboo clothing business. They are one of the most feasible fibers found on earth and an endless renewable source. It is one of the fastest growing grass that can reach up to a meter each day. Four to five stems are being harvested each year creating more space for new shoots to grow.
Moso bamboos take in five times more carbon dioxide and release roughly 35% of oxygen into our atmosphere. Therefore, it lessens the greenhouse effect. Moso culm or cane sheathing is pretty dark, smudged, piliferous, and easy to see. You will see quite large oral setae, sheath ligules, and auricles. This is highly expensive for its remarkably large canes and small fine leaves.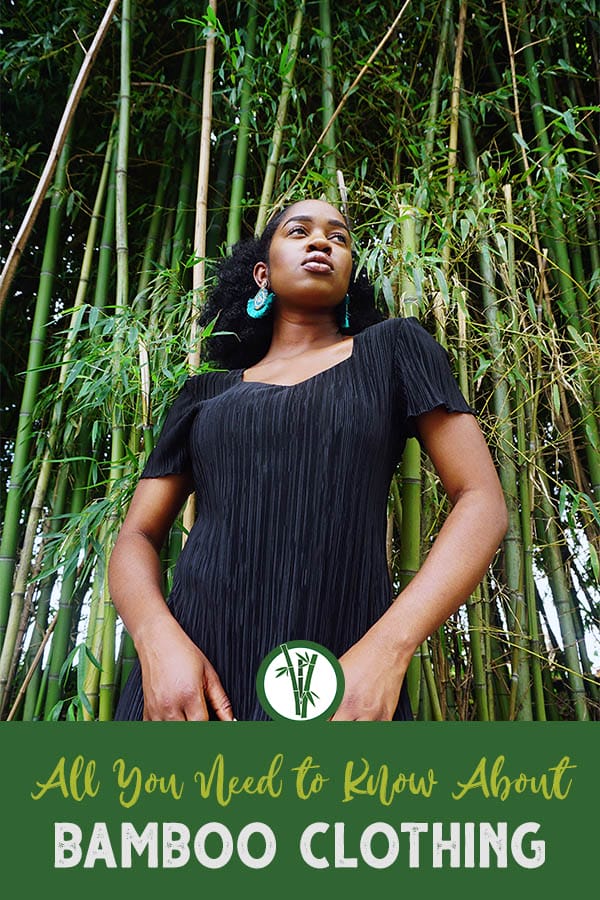 Processes of developing bamboo fabric
Mechanical process
A mechanical method is an eco-conscious approach that grinds the bamboo into a mash. It is the least risky but the most expensive one. This is achieved by smashing the wooden sections of bamboo, leaves and stems then use native enzymes to break it up into a pulpy mass. Next, the actual fibers can be automatically pulled out and then whirled to make yarn. The fiber looks like cotton in its unspun version.
This is essentially the same process, which is used to make linen fabric from hemp or flax. This kind of material is often referred to as bamboo linen. Yet, so few bamboo linens are manufactured due to its highly labor intense, expensive and quite complex and sensitive to print on!
Chemical process
Here is where the debate sprawls. Chemical processes may pose some threats to operators at processing factories and nearby surroundings. The consequence of this procedure turns the bamboo into a fiber-like Rayon. It is a fiber that is made from the starch.
We all know that there are no chemicals combined to the environment when producing bamboo but when it proceeds to prepare them into a fiber, a lot of chemicals are involved in making.
A standard technique called 'hydrolysis alkalization with multi-phase bleaching' is never recognized as environmentally bearable. The system to produce this fabric can't be deemed renewable or eco-friendly, because of the dangerous compounds and threats to the ecosystem and its operators.
Is chemically treated bamboo fiber dangerous for your health?
Consumers Against Toxic Apparel or CATA raises awareness and teaches buyers concerning the risks of toxic garments, unites the organic apparel society by collaborating with national organic businesses and generates support that empowers consumers to save their bucks on shopping. It is the initial drive in the U.S. prepared to pay attention to the increasing concerns circling the non-regulated systems in the textile production concerning the extensive usage of poisonous compounds in clothing.
Chemically processed fabrics can make you feel uneasy. They influence individual muscle movement and hold wetness against our skin. The texture is man-made and seems quite counterfeit.
However, modern production factories have started adopting diverse technologies to chemically produce bamboo fiber that are harmless and eco-friendly. The synthetic production method utilized to manufacture lyocell from wood cellulose can now be qualified to use bamboo cellulose.
What is the healthier up-to-date system of bamboo textile production?
Nowadays, chemical bamboo textile manufacturers embrace the lyocell method. They prefer to use the chemical called N-methyl-morpholine-N-oxide which is a member of the amine oxide family. That means it is non-toxic to humans and pets.
This weak alkaline together with hydrogen peroxide is being combined as a stabilizer. The fiber applies a setting solvent of water and ethanol or methanol or anything related to alcohol then spun into thread. Lyocell method is considerably healthier and more eco-friendly. The chemical production processes are closed-loop with 99.5% of the elements recovered and recycled.
What is bamboo viscose?
Bamboo viscose is a viscous organic extract used to produce rayon and cellophane. The cellulose from the wood or cotton fibers is dosed with sodium hydroxide and then combined with carbon disulfide to create cellulose xanthate, which is mixed with more sodium hydroxide. The developed viscose is expelled into a slit to create cellophane, or into a spinneret to form viscose rayon. The good news is, viscose is getting less due to the contaminating impacts of carbon disulfide and other harmful chemicals.
What is bamboo litrax?
Bamboo litrax is contrary to bamboo viscose because it is prepared naturally. It practices an innovative process. The method is entirely natural. The wooden portion is broken down mechanically. The fiber is later whirled into yarn. It is the identical production method used to create linen from hemp. The native preparation of litrax bamboo lets the fiber to outlast and present a remarkably high-quality textile.
Is it safe for us to buy bamboo clothing?
There are many stores who are genuinely manufacturing environmentally friendly and planet-conscious bamboo clothing. When purchasing bamboo clothing, regularly inspect and be sure you pick bamboo apparel that was not produced using the viscose chemical method. It is really not a practical thought to use such substances that are non-biodegradable.
Here's a little tip for you to determine an eco-friendly from harmful bamboo fabric: Remember that Rayon is not organic. It doesn't meet the standards for organic certification. Check for Lyocell, Tencel, and Oeko-Tex tags on fabrics that you want to buy.
Reasons to buy bamboo clothing
Hypoallergenic
Bamboo's natural and consistently soft fiber features are non-irritating making it perfect for those with skin irritations or other sensitivities and even dermatitis. Some may furthermore encounter chemical feelings, but it depends on the production method used to manufacture the thread.
UV protection
UV rays are unseen radiation that come from the sun. Everyone must be vigilant to shield themselves from the risks of UV radiation. Too much exposure may cause sunburn, premature skin aging, skin irritation, and even melanoma.
Bamboo fabric has a protective factor. If you cannot really avoid being under the sun, you can use clothes made from bamboo fiber to shield your skin while you appreciate the sunshine. This is the only native fiber used for apparel that possesses this beneficial feature.
Antibacterial and antifungal
The fabric has a natural antimicrobial factor called Bamboo Kun which is the is a bacteriostatic agent of the bamboo fiber. Kun can only be found in bamboo. It limits bacteria from growing on it, which keep your clothes odor free. This deodorizing property of bamboo is what makes them the best when it comes to active people.
Having the antimicrobial property, this fiber is by far the most dependable substance close to our skin. It can be harmlessly used as clothes or used as bed covers. Infants and even persons with hypersensitivities can already have an added coat of protection. You will be protected from toxic bacteria and fungi that can cause infection.
Breathable
The porous attributes of bamboo fiber are valued for their breathability. Bamboo fabric has an exceptional standard of breathability which makes it amazingly refreshing and pleasant to wear. The cross-section of the bamboo fiber is filled with micro-holes and micro-gaps. It has excellent moisture absorption and coolness. Its unique microstructure makes clothes absorb and dry perspiration pretty quick. It can amazingly take up triple its weight in water.
Durability
Bamboo fabric is more long-lasting than other fabrics. The softness along with its strands and its details adds to its natural strength. The bamboo fabric doesn't have any irregular sides and corners like other fabric do. It doesn't crumble out quickly. Materials made from bamboo remains longer. As a matter of fact, it becomes smoother.
What type of bamboo clothing do you want to start with?